A Safer Shine with Cost Savings:  Terrazzo Floors Sparkle
North Rockland High School had restored their terrazzo floors and began using the Diamond Devil™ Shine Tool to maintain their luster, with big advantages:
Reduced risk of slips and falls
Eliminated cost and toxicity of floor stripper and wax
Labor and overtime savings
Better image gloss results
A greener, water-based option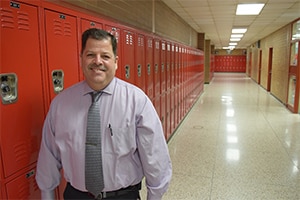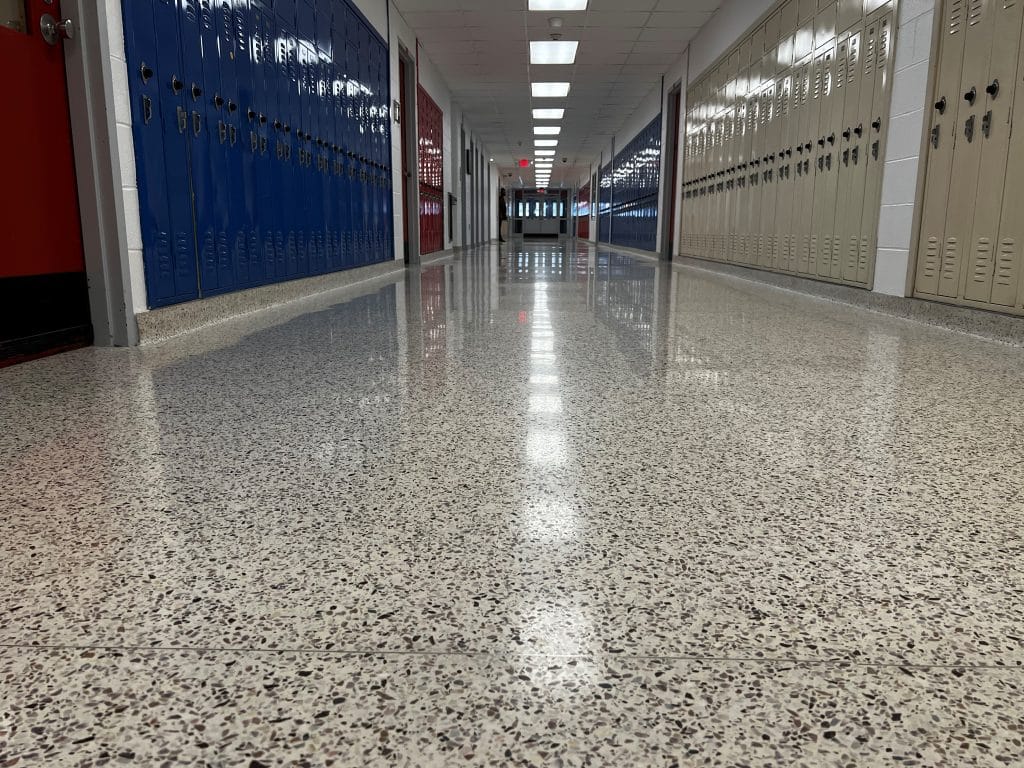 With all of these benefits, the school's custodial staff gives the Diamond Devil™ Shine Tool five out of five stars.
Before discovering the Diamond Devil™ Shine Tool, Paul Rooney had a big safety issue on his hands. The director of facilities for North Rockland Central School District in Garnerville, New York, was concerned by custodial staff fall injuries while stripping and waxing the 1960s-era terrazzo floors.
"My custodial staff was getting hurt in the summertime stripping the terrazzo floors so that they could re-wax them…it can be very slippery and they were getting injured by slips and falls…," Rooney said.
To prevent any further injuries, he sought an alternative terrazzo floor maintenance option for the 320,000-square-foot building's corridors.
Outshining other waxless options for Terrazzo floors
Rooney's team tried a few alternative products that didn't require waxing, but the results were lackluster. When a local vendor recommended the Diamond Devil™ Shine Tool, the custodial team was blown away by the shine and ease of use.
"It had a better shine and was less maintenance throughout the year," said Rooney.
Cost-effective, chemical-free maintenance program for Terrazzo flooring
The custodial staff began using the Diamond Devil™ Shine Tool to restore all of the school's terrazzo floors, moving completely away from the traditional strip-and-wax process. The district is saving money since they don't need to purchase chemicals. The cost savings for their terrazzo floor restoration and polishing is roughly two-thirds.
"I would recommend this tool and process to any school district, any university, anybody that has terrazzo floors. It's a greener process than stripping and waxing and much safer," Rooney said.
His staff appreciated both the high shine results and efficient, safe and convenient process. "As you use it more and more, the floor gets that much shinier," daytime custodian Anthony Peluso explained. "Using the Diamond Devil™ Shine Tool is a cost saving because you don't need cleaners. You can use strictly water. It's just a one-time cost for you. Strictly water with the blades and you've got a shiny floor, and it's easy to do." The tool attaches easily to the school's ride-on floor machine.
Once a hallway is converted from a wax polish, once- or twice-a-week maintenance with the Diamond Devil™ Shine Tool maintains the shine. Even salt tracked in during the winter months can't dull the sheen.
"I'm really fanatic about how the floor looks after," Peluso said. "I was very happy to see there is no residue left behind, so I don't have to go back and rinse or clean it."
Saving time and money
Diamond Devil™ literally outshined the competition and the results of traditional stripper and wax. The fall-prone job of stripping is eliminated Plus, the Shine Tool operates quietly enough that maintenance can be done during a regular night shift, rather than a lengthy summer session requiring overtime hours. "The biggest challenge before I found the Diamond Devil™ Shine Tool was finding the time to strip the floor and wax it. With the tool now, it takes all that out of the equation. We can do this on our normal shift. We can do it at night. We don't have to wait for a holiday to do it. We can do it at any time. That alone is huge," Peluso said.
On a scale of one to five, Rooney said, "I would rate the Diamond Devil™ Shine Tool a five, being the best product that I found out there on the market. It saves us time and energy with the manpower here, and it's also a safer process."
For more information or to answer any questions you may have around DIY terrazzo floor restoration with our Diamond Devil Shine Tool, please contact us.