The Malish know-how is backed by 75 plus years of industry experience.
Whatever type of floor you clean and maintain – from terrazzo, concrete, grouted tile to resilient flooring, Malish has solutions to help you achieve outstanding results.
View our Floor Care Solutions

Floor care solutions for cleaner facilities, easier floor maintenance and lower product and labor costs
Products and Systems for Every Floor
---
Cleanliness in commercial spaces is vital to the safety of those who gather to work, learn or care for others. That's where Malish can help. We have floor care solutions to make your floors cleaner, your maintenance easier and overall material and labor costs lower.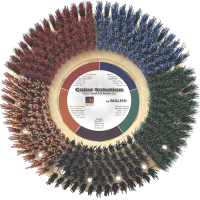 GRIT BRUSH COLOR SOLUTION
For grouted floor tiles
Pitch the Pad, Buy the Brush
This color-coded system delivers superior cleaning on many floor surfaces. The grit bristle color corresponds to the color of the pad it replaces.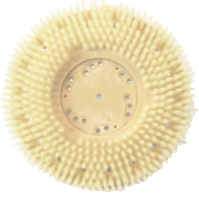 WHITE NYLON BRUSH (.016)
For LVT, VCT, and delicate flooring
Maintains a Clean, Fresh Look
Ideal for routine cleaning and scrubbing of highly polished floors. This brush combines ease of use with reliable performance.
Benefits of our floor care solutions for terrazzo, concrete, grouted tile to resilient flooring

cleanliness
Superior cleaning of grouted, textured, terrazzo and concrete floors.

cost savings
Won't clog, allowing work to be completed faster, saving time and labor costs.

eco-friendly
Last longer than pads, reducing landfill waste and most harsh chemicals.
MAL-GRIT SCRUB™ BRUSH IN ACTION
Reaching deep into grout lines where pads can't