Flex Scrub™ FAQ Section:
Q: Can you purchase the Flex Coupler separately?
A: No, the Flex Coupler does not detach from the Flex Scrub™. If you're in need of a replacement Flex Coupler, you will need to replace the entire bristled pad.
Q: What type of machine can I use Flex Scrub™ on?
A:  Flex Scrub™ bristled floor pads work with most standard floor machines: 175-350 RPM's (single disc machines, auto-scrubbers, ride-on and orbital). Quickly attaches to any pad driver.
Q: Can you use a Flex Scrub™ on all orbital floor machines?
A: Flex Scrub™ will work on all pad drivers made with a standard recessed center hole area.  This allows room for the Flex Coupler.
Exclusions include machines designed with a flat disc pad driver; examples pictured below.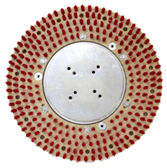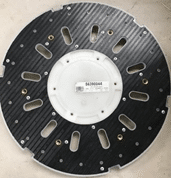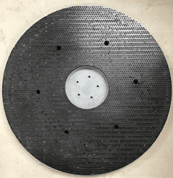 Q: What color Flex Scrub™ should I purchase?
A: Purchase the same color Flex Scrub™ as the floor pad you are currently using.
Q: What size Flex Scrub™ should I order?
A: Order the same size Flex Scrub™ as your pad driver.
Q: What sizes does Flex Scrub™ come in?
A: Flex Scrub™ Bristled Floor pads come in five sizes:  13", 16", 17", 19", and 20".
Q: How do I know when I need to replace my Flex Scrub™?
A: Replace Flex Scrub™ when bristles have about ½" length remaining.
Q: If I currently buy and use grit brushes, should I buy Flex Scrub™ instead?
A: No, continue to use grit brushes. Flex Scrub™ is not a replacement for a grit brush; it is a replacement for a pad.
Q: How long will a Flex Scrub™ Bristled Floor pad last? 
A: Our testing shows that if you use the same color Flex Scrub™ as a floor pad, the Flex Scrub will last up to 50 times longer than one traditional floor pad.
Q: Will the Polypropylene scratch the floor?  
A: The Polypropylene in the Flex Scrub™ will not scratch the floor if you are using the proper Flex Scrub™ for the floor type.  Reference our application guide for details.
Q: Is the Black Flex Scrub™ effective in taking off floor wax like a traditional pad can?
A: When used with a chemical stripper, the Black Flex Scrub™ removes the floor wax more quickly, which increases worker productivity. Black Flex Scrubs™ do not gum up when stripping. Black floor pads gum up after 150 sq ft, they need to be flipped and washed out while Black Flex Scrubs™ are self-cleaning.
Q: Can the Flex Scrub™ polish floors?
A:  Flex Scrub is not intended to polish, but to clean and strip, depending on the color Flex Scrub™ you use.
Q: Are there enough tufts in a Flex Scrub™ to clean the floor well?
A: There are more than enough tufts on a Flex Scrub to properly loosen the dirt and agitate chemicals/water on the floor to achieve a clean result.  The bristles agitate and remove the dirt in both the highs and lows of the floors and in grout lines, where traditional pads only smear the dirt and spread it across the surface of the floor.
Q: Can you use Flex Scrub™ on LVT?
A: No, we suggest using our Soft White Nylon brush on LVT.